Back off to better blow up. For the past few days, the LBLOCK token of the LuckyBlock project has been applying this precept to the letter. After a first ATH on February 11, followed by a correction phase, the token has been on the rise for several days. The *100 is now not far away and the first prize pool is already over 5 million dollars.
Feedback On The Price Of The LBLOCK Token
The following graph, available on the Coinmarketcap platform, shows the path taken by the LBLOCK token since its listing on one of the reference platforms: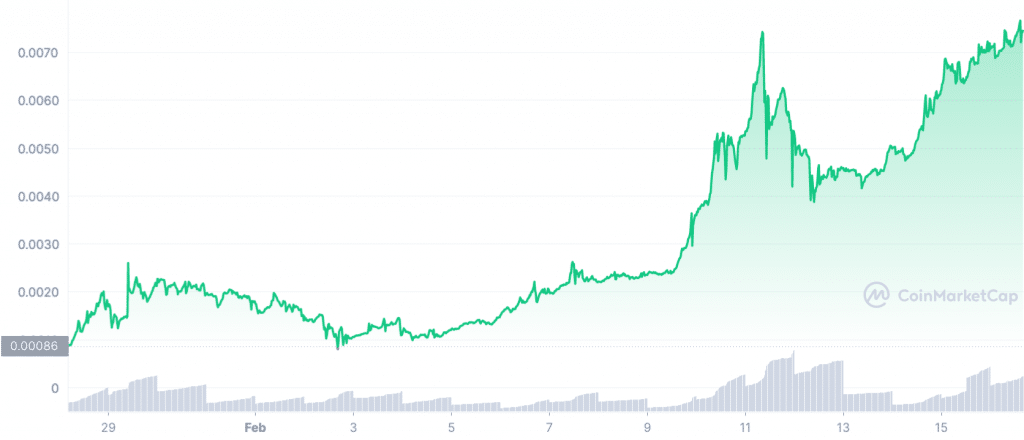 After a fanfare start, the token tidied up for a few days before starting an exponential rise. On February 11, it exceeded its ATH at more than $0.007 before correcting the following days. Since the day before yesterday, it seems that the token has taken off with a bang and is still above $0.007. At the time of writing, one LBLOCK token is trading for $0.00760338. Over the past 24 hours, the token has risen by more than 11%.
Since the token is listed on Coinmarketcap, it has seen a surge of almost 785%. If we refer to the price of the token during the presale, those who invested $100 are now at the head of a capital of more than $5,000.
If we stick to the tools of technical analysis and Fibonacci retracements, the next level of 2.618 is around $0.0086, the price level reached by the LBLOCK token on the LBank platform when launched.
A Pot Of More Than 5 Million Dollars!
The LuckyBlock crypto lottery prize pool is now over $5 million. The draw for the first winners will take place on March 25. On the 
Lucky Block site,
 an explanatory video specifies that from this date, daily jackpot draws are to be expected.
As a reminder, the winning model of Lucky Block provides for the repayment of 70% of the amount of the jackpots for the winners. The remaining 30% is paid equally between:
Holders of the LBLOCK token
Marketing around the project in order to attract new players to inflate the amount of jackpots
Charities like the British Red Cross. Note that on this point, holders of the LBLOCK token can choose by voting for the associative projects they most want to support
Upcoming Deadlines For LuckyBlock
If the last few weeks have been radiant for the LuckyBlock project, the next ones could still see the price continue to climb. Indeed, as we have seen, the application will be launched in beta test on March 7 for a launch scheduled for March 21. The first lottery draw is scheduled to take place on March 25.
The CEO of the lottery project, Scott Ryder has also indicated that Lucky Block continues to contact exchanges for the token to be listed. The rumor of a contact with the Bitfinex exchange has also been confirmed.