NFT Crypto Projects You Can't Miss in 2022
New technologies related to the cryptocurrency market seem to know no limits. Everyone now knows Bitcoin or Ethereum. And we are currently witnessing the emergence of the metaverse, a virtual world where the field of possibilities is very wide. It is in this context in particular that we find NFTs or non-fungible tokens. Many ambitious projects are being built around this not-to-be-missed concept. You will discover precisely 4 NFT projects to follow closely for 2022.
NFT Or Non-Fungible Tokens: Reminders
An NFT simply means a non-fungible token. This digital asset has 2 main characteristics: its unique and indivisible character.
In other words, an NFT is one of a kind. It is impossible to exchange it for another NFT, as one would with fiat money. For example, 2 banknotes of N500 hundred nairs are equal. This is definitely not the case with 2 NFT.
2 NFTs are therefore not interchangeable because each has its own characteristics. Each also has a unique value.
Another very important specificity of NFTs lies in the fact that their security and verification are ensured by the blockchain. They are widely used in the field of rare works and other unique virtual collectibles. In particular, they make it possible to certify the ownership as well as the authenticity of these digital objects.
4 NFT Projects To Watch Closely In 2022
So here are 4 blockchain-based NFT projects that we think shouldn't be missed in 2022:
NFT Lucky Block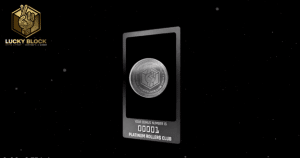 Lucky Block is a crypto-lottery platform that is currently making a lot of noise. It is particularly known for being the crypto to have reached a valuation of one billion dollars the fastest. In addition to its blockchain-based lottery, Lucky Block is also planning to launch an NFT collection soon.
The public will soon be acquainted with the "Platinum Rollers Club" collection which will include 10,000 limited edition NFTs. Each non-fungible token will be worth US$1,500 when launched.
The success of these NFTs should be modeled on that of the LBLOCK tokens, the value of which has greatly multiplied since their debut. During the presale period, the price of a token was $0.00015. This is today at almost $0.0040, which corresponds to an increase of almost 2,700%.  In a few weeks, the value of an NFT LBLOCK should increase significantly.
You should know that these NFTs come with some utilities and advantages for their holders:
Participation in the daily NFT lottery draw
Daily draw valued at $10,000
Possibility of doubling the jackpot in the event of obtaining a "Rare" NFT whose number is a winner
To buy Lucky Block NFTs – follow the information on the official 
LuckyBlock
 website and the twitter of a new 
marketplace.
Decentraland (MANA)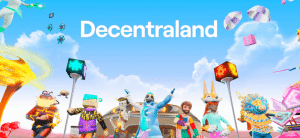 Decentraland is an NFT project that was launched in July 2020. This decentralized platform is based on the Ethereum blockchain and offers 3D virtual reality. Investors have the opportunity to build various virtual infrastructures. It can be a casino, a concert hall, a park or even an art gallery. Other players can visit these structures for a specific fee.
Each of them constitutes a "LAND". This ERC-271 type non-fungible digital asset is subdivided into 16 x 16 (meter) parcels. These plots are owned by the Decentraland community and purchased with MANA, the native token of the project. Note that these can be grouped by theme. In any case, this is the type of project that you can find with Opensea, an essential NFT marketplace today.
Axie Infinity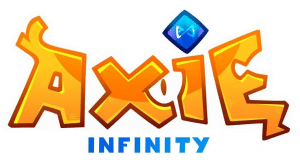 This is a fairly new NFT project insofar as it is centered around pets. Investors can then acquire "Axies". These are creatures that can have many applications: combat, exploration or even reproduction (with other Axies).
This project therefore works like a game (but dedicated exclusively to people over 18) and is based on the crypto Ethereum. There are two options for participating.
On the one hand, there is the SLP or Smooth Love Potion which is earned through games, matches or quests. SLPs are available unlimited.
On the other hand, there is the AXS token whose total number issued is limited to 270,000,000. It is both a governance token and a purchase of land plots within Lunacia ( name given to the global universe of the game).
CryptoPunks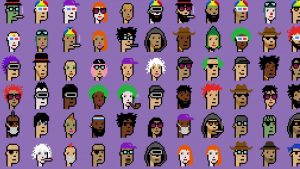 This project offers unique art objects. More precisely, these are pixel art images (dimensions 24 x 24 mm). Their creation is based on a specific algorithm that ensures the uniqueness of each character. The choice is generally possible between guys and girls with punk looks. Added to this are rarer elements such as animals (monkeys), zombies or even aliens.
In total, the collection has 10,000 characters. Each NFT belongs to one and only owner.
Originally, every holder of an Ethereum wallet could claim one. It should be noted in passing that it is quite rarely a question of Bitcoin in this kind of project. Today, no more CryptoPunks NFTs are available. To get it, you must now buy it. Knowing that the corresponding market is integrated into the blockchain.