Ukraine DAO, the project promoted by Pussy Rio, has raised $6.75 million. The DAO enlisted the collaboration of PleasrDAO, TrippyLabs, CXIP, and several Ukrainian humanitarian activists. The decentralized autonomous organization achieved this figure through the sale of an NFT of the Ukrainian flag, minted on Ethereum, and various crypto donations sent directly to UkraineDAO.eth.
Ukraine DAO Pussy Rio
The funds raised will go to Come Back Alive, a Ukrainian charity initiative. The DAO has also provided donors with a token called LOVE, with no utility, no value, but as a beautiful reminder of having contributed to a worthy cause. Nadya Tolokonnikova, founder of Pussy Riot, was arrested on February 21, 2012 in Russia for performing an anti-Putin protest song in a Moscow church, earning her 18 months in prison. The event turned the activist into an international symbol of radical resistance.
The single copy NFT of the Ukrainian flag was purchased on behalf of 3271 taxpayers. The operation was carried out through PartyBid, a site dedicated to buying NFTs in groups. Thus, Ukraine DAO acquired the NFT with the money obtained from donations. 
According to blockchain analytics firm Elliptic, the Ukrainian government and NGOs that provide support to the armed forces have managed to raise $42 million through more than 59,000 donations of crypto assets to date, since the beginning of the Russian invasion. Included in this figure is the $5.8 million donation made by Polkadot founder Gavin Wood and the sale of a CryptoPunk valued at over $200,000.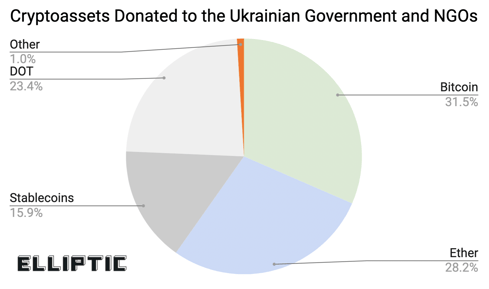 Donations in SOL and Dogecoin
Since February 26, when the Ukrainian government called for cryptocurrency donations on Twitter, bitcoin, ethereum, TRON, and Polkadot addresses have received the equivalent of $34.2 million in cryptocurrencies, from 53,709 accounts. Mykhailo Fedorov, Minister of Digital Transformation of Ukraine, informed yesterday in a tweet about the acceptance of donations in SOL, providing the corresponding address. Today he himself launched another tweet in which he reported that dogecoin had surpassed the value of the Russian ruble and that the Ukrainian government was beginning to accept donations in the meme currency.
Oi
There are many in the crypto and artistic space who are supporting the cause of Ukraine. This is the case of the American artist Mike Winkelmann. Known as Beeple, he is famous around the world for selling a $69 million NFT at Christie's.